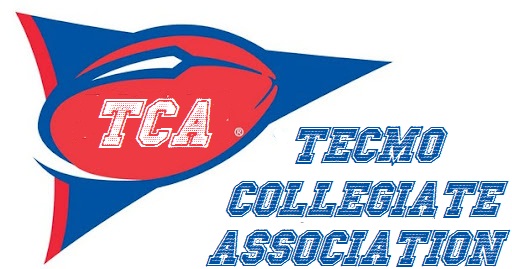 WELCOME!! After one of the best leagues online folded in TCS. TCA is now here. This is our 1st season with 16 teams and it should be a great one. We have many college greats playing and a nice group of dedicated owners. If interested in joining just go to the Tecmo World forum and look up our forum.

LET'S PLAY SOME COLLEGE FOOTBALL!!!


What can I say. What a great half a season for TCA. #1 teams falling and then the possible new #1 falling in consecutive weeks. The surprise of the season in ASU. Teams who have played as expected and others who have struggled. We have many Heisman hopefuls and I wish them all GL. The second half of the season will show who will move on to the big games. In 1 division that should be wrapped up soon but in others who knows. There were more teams hovering around 3-3 then I expected. How they play down the stretch will show whether they deserved a Big Bowl bid or a lesser. I wish ever single owner the best as we continue with season 1.
On a side note I do have O ratings done for season 2 for current teams. If you wish to see your team just let me know. THIS IS ONLY OFFENSE. Defense is already posted.
HEISMAN HOPEFULS
This is the midseason list and of course
anything can happen with 6 more games to go.

Jeff van Raapors
Chris Leak
Ted Bridgewater
Corey Dillon
Woody Green
Emmitt Smith
Robert Griffin
Cold Alvarez
Hines Ward
Jessie Hester
Jamel Harris
Derrick Thomas
Mike Haynes
Reggie Nelson
The winner could come from this list
The league will vote on the top 3 after regular season is done.


Week #4
TEXAS at WASHINGTON
Nice showdown here. TEXAS 31-21
IOWA at MICHIGAN
Michigan as Iowa continues its hunt for win 1. 21-7
ARiZONA ST at NOTRE DAME
If I knew the winner of ND-Mich this would/could have been GOTW.
ND has played well so calling them this game. 28-21
USC at OHIO ST
Lefty gets his 1st game as new owner.
Ryan will still be looking for #1. USC 24-21
FLORIDA at FLORIDA ST *GOTW
Winner is in better shape as far as a big bowl game. Both teams have
pulled off upsets. Taking FL in a high scoring game 35-28
LOUISVILLE at MIAMI
Louisville bounces back 35-7
ALABAMA at OKLAHOMA
? is which OK tean shows up. Bama a huge start to the season
I think OK comes out on top. 35-21
GEORGIA at TULANE
I am confused as I thought GA would have had 2 wins by now.
Tulane in an upset. 28-21

Week #5
MICHIGAN at ARiZONA ST
They face ND and Mich b2b WOW. Michigan 28-21
IOWA at USC
Could Iowa get its 1st win. Not yet. USC 35-14
WASHINGTON at NOTRE DAME
Great game here. AS both teams will grind it out. ND to win 21-14
TEXAS at OHIO ST
Ryan still searching. TEXAS 35-24
MIAMI at ALABAMA *GOTW
WHy this as GOTW? Bama has surprised and I am trying to
get all teams a GOTW. Bama 35-7
LOUISVILLE at GEORGIA
Louisville to control Hersel and Teddy will pass. LOU 42-14
FLORIDA ST at OKLAHOMA
OK I can tell you this. I think we could have a new rivalry brewing as these guys well....
Dont like each other. I am taking Home OK. 35-21
FLORIDA at TULANE
FL will continue to shine. 38-21

Week #6
ARiZONA ST at TEXAS
ARZ St has had a hell of a schedule. Texas looking to get back to
#1. texas 35-31
OHIO ST at IOWA *GOTW
WELL SOMEONE HAS TO WIN THIS GAME. DON'T TIEGUYS. OSU TO WIN 21-20
WASHINGTON at MICHIGAN
Great matchup. Will Big continue his Big D and contain Dillion or will Locker be using his legs?
Can Wash slow down Dennard? I say Mich 24-21
USC at NOTRE DAME
ND at home in one of the best rivalries in college all. ND 24-21
OKLAHOMA at GEORGIA
OK to win this one. 35-14
ALABAMA at FLORIDA
Winner here controls the South. FL will have a tough time slowing down the Bama run.
Calling Bama. 28-24
MIAMI at FLORIDA ST
FSU for the win. 34-13
TULANE at LOUISVILLE
Louisville to win 42-7


AP TOP 16
1 ARIZONA ST
2 NOTRE DAME
3 MICHIGAN
4 FLORIDA
5 ALABAMA
6 LOUISVILLE
7 TEXAS
8 FLORIDA ST
9 WASHINGTON
10 OKLAHOMA
11 GEORGIA
12 TULANE
13 OHIO ST
14 IOWA
15 USC
16 MIAMI
This is my own personal opinion of top 16. New #1 and lots of changes.

COACHES TOP 16
1 OKLAHOMA (5) 26 POINTS
2 LOUISVILLE (2) 33 POINTS
3 NOTRE DAME(4) 35 POINTS
4 TEXAS (1) 44 POINTS
5 MICHIGAN 47 POINTS
6 FLORIDA 60 POINTS
7 WASHINGTON 94 POINTS
8 FLORIDA ST 101 POINTS
9 ARIZONA ST 105 POINTS
10 USC 112 POINTS
11 ALABAMA 128 POINTS
12 IOWA 130 POINTS
13 GEORGIA 152 POINTS
14 OHIO ST 157 POINTS
15 TULANE 162 POINTS
16 MIAMI 194 POINTS
This is based on the coaches voting in our league. The LOWER the score the higher you are ranked. 1st place votes are in brackets. scoring based on 1-16 points with 1 being the lowest. 16 highest. So a perfect rating would be 16 total points.


PAC 4
1 ARZ ST
2 TEXAS
3 USC
4 WASHINGTON

BIG 4
1 IOWA
2 MICHIGAN
3 NOTRE DAME
4 OHIO ST

SOUTH 4
1 ALABAMA
2 FLORIDA
3 FLORIDA ST
4 GEORGIA

INDEPENDENT 4
1 LOUISVILLE
2 MIAMI
3 OKLAHOMA
4 TULANE

PREDICATED FINISH
1 TEXAS
2 WASHINGTON
3 ASU
4 USC
PREDICTED
FINISH
1. NOTRE DAME
2. MICHIGAN
3. IOWA
4. OSU
PREDICTED
FINISH
1. FLORIDA
2. FLORIDA ST
3. GEORGIA
4. ALABAMA
PREDICTED
FINISH
1. OKLAHOMA
2. LOUISVILLE
3. TULANE
4. MIAMI